Site Safe Scholarships
Site Safe Scholarships
---
Each year Site Safe supports the health and safety leaders of tomorrow by providing scholarships to complete higher-level learning.
Congrats to our 2020 scholarship recipients, click here to view list.
Applications for 2020 are now closed.
Applying for a scholarship is a great way to jump start your career and achieve your leadership goals in the construction industry. You can apply whether you're employed, an individual, or a sole trader.
Successful applicants receive:
Free training
Quality mentorship
The opportunity to celebrate their graduation with the rest of the industry
If you wish to complete your application through some other format, such as audio or video, or with the assistance of someone else, please contact us to discuss how you can submit your application.
Scholarships are open to employees from both Site Safe member and non-member companies.
About the Scholarship
The scholarship includes:
Complimentary training from any of our Site Safe courses that you can use to work towards completing our Health and Safety in Construction programme, which leads to the NZQA recognised

New Zealand Certificate in Workplace Health and Safety Practice (Level 3)

. Training must be completed over a 6 to 12-month period.
A dedicated mentor who will provide full support in completing training and assignment work.
Scholarship categories
There are five categories for entry:
Under 25 years of age category (any ethnicity)
Open category (any age or ethnicity)
Maori category (of any age)
Pasifika category (of any age)
Women working in construction category (any age or ethnicity)
Who can get a scholarship
You can be nominated by your employer if you:
Are working in construction or a construction-related field and are over the age of 18
Are of Maori or Pasifika descent (if applying under the Maori or Pasifika category)
Are under 25 years of age* (if applying under the under 25 years of age category)
Are a woman working in construction (if applying under the Women in Construction category)
How are scholarships applications assessed?
The applications are assessed against the following criteria:
Leadership skills
Commitment to safety
Work ethic
A contribution to safety in the workplace and in their industry
Employer support, or as a sole trader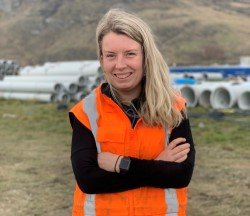 "It's opened so many doors. I've received a lot of recognition from my work because of the scholarship and it's the kind of thing employers are looking to see on your CV – it really puts you ahead of other applicants."